Buy Best Vitamin C Serum In India
Vitamin C Serum – 15ml
|
2021-12-01
Vitamin C Serum for face
This pure and concentrated form of Vitamin C Serum (Ethyl Ascorbic acid), Hyaluronic acid, Ceramide 3 and niacinamide serum can bring that special glow and brightness to your face.
Skin Type :

Normal, Dry, Oily & Combination Skin
Suitable For :

Men & Women
Benefits
Works on uneven skin tone & pigmentation
Rejuvenate the dull and lifeless skin
Prevents & reduces the appearance of fine lines and wrinkles
Fades age spots, dark spots & brighten skin
Protect against free radicals & UV rays damage
Powerful advanced anti-ageing formula.
Recommended For
Hyperpigmentation
Fine lines & wrinkles
Dull Skin
Uneven skin tone
Product Safety
Natural Skin Bioactives

Quality Vitamins

Dermatologically Tested

Oil Free
Derma Essentia Vitamin C Face Serum is packed with antioxidants and will bring that special glow to your skin you are looking for. We often underestimate the benefits of Vitamin C when it comes to looking after our skin. Vitamin C is a very powerful antioxidant which will help to both protect and improve your skin quality. It's excellent to use when you worry about damage from the sun or pollution.
What makes this vitamin C serum special is the added benefit of collagen and hyaluronic acid. Both are great for when it comes to " healing" and smoothing out wrinkles and fine lines. They will form a bridge of new skin cells in a wrinkle and reduce both the depth of the wrinkle and its width.
How does it work?
Vitamin C is a potent antioxidant that works by neutralizing free radicals which are generated by our body when exposed to urban pollution and UV radiations of the sun. Because of its antioxidant properties, vitamin C also aids in your skin's natural regeneration process by accelerating the production of collagen and elastin, which helps your body repair damaged skin cells and gives you younger, bright and healthy looking skin.
3 Powerful Ingredients
Vitamin C is a potent antioxidant that works by neutralizing free radicals which are generated by our body when exposed to urban pollution and UV radiations of the sun.
Vitamin C
It is an excellent skin conditioning agent with anti-ageing properties.
Ceramides
It boosts collagen production and maintains skin's young look.
Sodium Hyaluronate
Exhibits remarkable moisturizing, anti-wrinkle, anti-aging and collagen stimulating properties.
Place your order for Derma Essentia Vitamin C Serum for face and discover a new way to youthful skin & natural glow to your face.
Visualize the Experience
Visualize the Experience
Purified Water, Ethyl Ascorbic Acid, Ceramide III, Sodium Hyaluronate, Biosaccharide Gum-1, Phenoxy Ethanol, Fragrance & Suitable Base.
How To Use Vitamin C Face Serum :
Now gently massage it on your face and neck
Massage it until absorbed into skin
What is Vitamin C serum?
Vitamin C serum is a skincare product that helps to support skin health by boosting collagen (the main structural protein of skin) production. Natural acids in Vitamin C help to repair the skin itself.
How vitamin C Serum works on face?
Vitamin C face serum helps in reducing wrinkles, fine lines & dryness. It also helps to even out skin tone, repairs skin damage & provides moisturization.
How does Vitamin C works better - orally & topically?
Vitamin C is recommended for topical use as it is almost 20 times more effective to the skin when applied topically rather than oral use.
Does Vitamin C helps in skin lightening?
Vitamin C is an antioxidant and thus neutralizes free radicals which cause skin darkening.
How does Vitamin C help in lightening your acne scars?
Vitamin C slows down melanin production, exfoliates dead dark skin and promotes collagen production which reduces hyperpigmentation and thus helps in lightening acne scars.
How is Hyaluronic Acid (HA) beneficial to skin?
As we age, our skin loses the ability to preserve moisture, resulting in the visible loss of firmness. HA helps to replenish moisture that is crucial for having younger-looking, supple skin.
How do ceramides benefit our skin?
Ceramides are a class of waxy fats which holds together protective cells in the outermost layer of our skin.Ceramides help skin retain moisture, fortify its protective barrier, and keep its appearance firm and plump.
How do Vitamin B3 benefit your skin?
Vitamin B3 (Niacinamide) is a topical vitamin which creates skin barrier against pollutants, and other irritants.Also, it helps to prevent acne, inflammation, aging effects, and hyperpigmentation.
Can i use vitamin c serum in the morning?
Yes, you can use vitamin c serum in the morning. We recommend you must apply sunscreen afterwards.
Can i use vitamin c serum daily?
Yes, you can use vitamin c face serum daily.
How to prevent vitamin c serum from oxidizing?
You must store vitamin c serum in a cool, dark place and away from the sunlight to prevent it from the oxidizing.
How long does vitamin c serum last?
Derma Essentia Vitamin C Serum lasts for one month if used daily.
Does vitamin c Serum dry out skin?
No, Derma Essentia Vitamin C Serum does not dry out your skin. It contains hyaluronic acid that moisturizes your skin and gives it a plump an dewy look.
How often should you use a vitamin C serum?
You should use vitamin c serum twice in a day regularly.
Can i use moisturizer after Vitamin C Serum?
Yes, you can use moisturizer after applying Vitami C Serum.
Can Vitamin C Serum burn skin?
No, Vitamin C Serum do not burn your skin. But if you have acne prone or sensitive skin, we recommend to do a patch test on your hand or behind your earlobe to check the irritation or redness, if any.
Can you use Vitamin C Serum before makeup?
Yes, you can Vitamin Serum before makeup.
How to know if your Vitamin C Serum has oxidized?
If the color of Vitamin C serum turns yellow to brown then it's a sign of oxidization.
Is vitamin C serum good for dry skin?
Yes, Derma Essentia Vitamin C Serum is suitable for dry skin. It moisturizes and rejuvenates your dry and dull to give a smooth & glowing skin.
Can I mix Vitamin C serum with my moisturizer?
No, you should not mix Vitamin C Serum with your moisturizer. You should first apply the Vitamin C Serum on your face and then you can apply your moisturizer afterwards.
Can I use Vitamin C Serum after exfoliating?
Yes, you can use Vitamin C Serum after gentle exfoliation.
Customer Reviews
Write a Review
Ask a Question
11/17/2020
Eva H.
India
love it!!!!!
It was an amazing product. I love the glow in my face and its great to see that it gives the result that makes you want to buy it again..
Best Vitamin C Serum
I have used various kinds of Vit C serums but this one suits me the best . Infact it suited me better than the Skinceuticals one too as that had caused me skin purging. Its the best serum for sensitive skin, non greasy with a light consistency which get absorbed into the skin easily.
Totally worth your money
I'm hesitant to try anything new but this looked great and it did its job fantastically. I am surprised how in little time my skin feels so healthy and glow. I would recommend this product in a gasp. Thanks @nykaa for sending it so quickly. I'm gonna stock up for sure.
It is good for both men and women
I have used many products but they never suited my skin. This product reduce dark spots. It is good for men also. I suggest to my family and friends. I really happy with this product.
God's gift for me!!
How many we could try the creams or serums man!!!!! Thank god ...this cream is amazing!!!! I have got skin sagging and large pores for a very long time..felt bad being a model!! I was buying and going behind for product's because of its brand name and spent sooooo much!! This serum does helped me alot and I am soooo happy now...will tag the pics for reference!! Thank u derma the team....love u so much guys!!♥️ To say it worked for me..that's it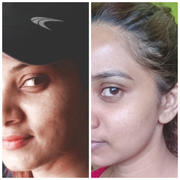 Very light & non sticky serum
Very light and non sticky vitamin c serum. I am using this serum from last 2 months and I can see really good change in my skin. My skin tone is more even, smooth and glowing.